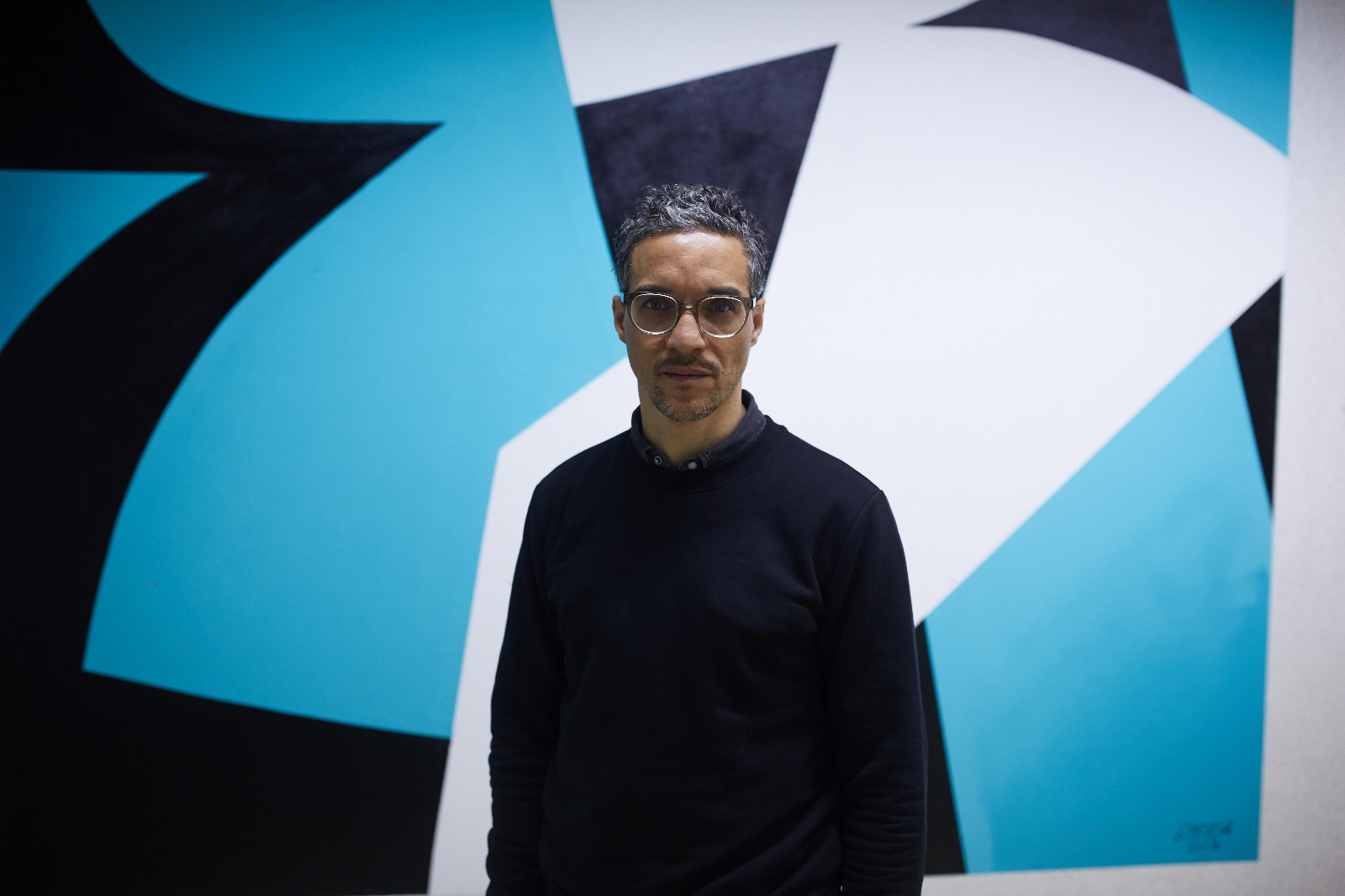 Christian Hundertmark (C100), *1974, is an artist and creative/art director based in Munich, Germany. His very first sketches "Anarchy" & "Bat Man" in 1989 were the ignition for a career as an active graffiti writer for more than ten years. Later on, in 1999 after having just finished his graphic design studies, Christian got into street art and was one of the pioneers of this then still young movement in Germany.
During that time he also got introduced into the international urban art scene and realized many projects in London, Barcelona, Madrid and Milan. Since then Christian keeps himself busy working on various art projects and exhibitions. His works were released in numerous publications and exhibited in galleries and museums worldwide.
Christian's works are best described as compositions of hard egded floating layers with elements, which play with the momentum of the masked and balance between calm and tension. They often show traces of both his graffiti and graphic design background; the painted shapes are influenced by transitions of skateparks, which origins from his youth and present as an avid BMX rider and skateboarder in the 80's.
Christian also runs the graphic design bureau C100 Studio and was author of the bestselling books series "The Art of Rebellion I, II, III & IV", that came out in 2003, 2005, 2010 and 2016, which sold over 80.000 copies worldwide and are denoted to be the "bibles of street art".
Since 2016 he also forms the artist duo "Layer Cake" with his fellow artist friend Patrick Hartl,  www.layercake.org  Together they brought out the book "The Art of Writing Your Name – Urban Calligraphy and beyond" in 2017.
For regular news please check out https://www.instagram.com/c100art/

Exhibitions and group shows:
• Urban Contemporary Group Show – Kunstverein Schwäbisch Hall (Germany), 2019
• River Tales Group Exhibition – Oberhessisches Museum Gießen (Germany), 2019
• Welcome to Porky's (Layer Cake) – Kunstverein Rosenheim (Germany), 2019
• Urban Art Biennale 2019 – Völklinger Hütte Völklingen (Germany), 2019
• Kunstlabor – Museum of Urban Contempory Art Munich (Germany), 2019
• Freunde des Haus der Kunst Annual event – Haus der Kunst Munich (Germany), 2019
• Layer Cake – Adda Taxie Gallery Paris (France), 2018
• Artistic Dialogue (Layer Cake) – Farbenladen Munich (Germany), 2018
• Layer Cake – Heart Munich (Germany), 2018
• Urban Art Biennale 2017 – Völklinger Hütte Völklingen (Germany), 2017
• Layer Cake – Ifog Galerie Munich (Germany, 2017)
• PM11 Radius M – Urban Nation Gallery Berlin (Germany), 2017
• Residence K – Zurich (Switzerland), 2016
• Layer Cake – Ad Hoc Gallery Vienna (Austria), 2016
• Dein Viertel /Deine Leinwand – Munich (Germany), 2016
• Buchstabenarchitektur – UAG Gallery Stuttgart (Germany), 2016
• Untitled – Firstpagegallery Munich (Germany), 2016
• Untitled – Undplus Gallery Store Berlin (Germany), 2016
• Born 1974 – Grafik14 Zürich (Switzerland), 2014
• So Far, So Good, So What?, – Helmet Gallery Munich (Germany), 2011
• So Far, So Good, So What? – Nina Sagt Gallery Düsseldorf (Germany), 2011
• Undplus Gallery Store – Berlin (Germany), 2010
• Siren #2 –Helmet Gallery – Munich (Germany), 2010
• Untitled – Undplus Gallery Store – Berlin (Germany), 2009
• Stroke #1 Munich (Germany), 2009
• Oakley – Bread & Butter Barcelona (Spain), 2008
• Siren #1 – Sodabooks Munich (Germany), 2008
• Around The Bloc – Nicholas Robinson Gallery New York (USA) 2008
• 5,3 kg Flyer – Zerwirk Munich (Germany), 2007
• Red Bull Brandwagen – Vienna (Austria), 2006
• So G'sehn – Serie A Munich (Germany) 2005
• Finders Keepers – Open street art shows London (UK) 2003, 
Barcelona (Spain) 2004, Milan (Italy) 2005
• Food Show – Die Registratur Munich (Germany) 2004
• Food Show – Magma – London (United Kingdom), 2004
• Street Art WM – Tillburg (The Netherlands), 2004
• Gravis Mindclouder Tour – Carharrt-Store Berlin (Germany), Antwerp (Belgium) 2002
Publications:
Basic Posters, Bastardised, Best of Disc Art, Black & White Graphics, Colour in Graphics, Communicating Fashion Brands, Defgrip, Design & Designers, Ètapes, For A Good Cause, For Love And Money, Grafik, Graphic, Graphics Alive 2, Graphic Beats, Graphic Design, Inspirations, IdN Magazine, IdN 15th Anniversary, Ingenuity Magazine, International Design Yearbook, I Love Futura, I Love Helvetica, Logo Art, Logo Book, Logology 2, Los Logos 4, 5, 6, Musikraphics, Neuland, Novum Magazine, On Board Page Magazine, Retrofonts, Satellite Voices, Sketchbooks, Streetwear Today Magazine, Sueddeutsche Zeitung, The Munich Book, Vectorism, X-Ray Magazine